Hello Everyone,
Hope you are doing well…
Today we will discuss about .onion links.
What is .onion Sites?
Any website that is part of the Tor network has a URL that ends in .onion and can only be accessed using Tor. Your regular browser won't be able to view these websites.
.onion URLs usually look different from the URLs you're used to. They are usually long, complex, and hard to remember. Some .onion websites also change their URLs regularly to maximize their privacy.
How to access the .onion Websites?
The best way to safely access .onion sites is to use a combination of Tor and a top-rated VPN.
One way to do this is to simply connect to your VPN first and then use the Tor browser to connect to Tor. 
You can download the Tor browser on the official Tor website if you don't already have it. (As Described in previous blog).
This method is known as "Tor over VPN". Since your VPN will immediately hide your IP address and encrypt your traffic, you never have to reveal any of your information to the Tor network.
Some VPN providers also offer built-in Tor services that make it even easier to use a VPN and Tor together.
There is another method known as "VPN over Tor", but it's a little trickier to set up.
Whichever method you choose, the final step is the same.
Once you're securely connected to your VPN and Tor, you simply type or copy and paste the .onion URL into your browser and go.
Here are a few more tips that will help you stay safe while browsing .onion sites:
Make sure you get the URL correct. Although .onion websites aren't going to hurt you if you're securely connected, you can still find some pretty dark things that may be upsetting. It's a good idea to check multiple sources before visiting a .onion site.
Be careful what you share and who you interact with. The dark web is unregulated, which is great for fighting censorship and sharing information, but also means that many areas are used to carry out illegal activity. Make sure you know where you are going and be extra cautious about scammers and others with malicious intent.
Don't download any files or enable any scripts on unknown .onion sites. They could contain malware.
Avoid proxy services like Tor2Web that allow you to access .onion websites through your normal browser. They are not secure and may even steal or give away your personal data.
After launching the Tor browser, type the .onion address into its address bar. For example, to access Facebook's hidden service, you'd enter the following address:
https://facebookcorewwwi.onion/
Or, to access the DuckDuckGo search engine's hidden service, you'd enter:
·        http://3g2upl4pq6kufc4m.onion/
While using the Tor browser, you can click links to .onion addresses and they'll load normally. But they'll only work in the Tor browser, while connected to Tor.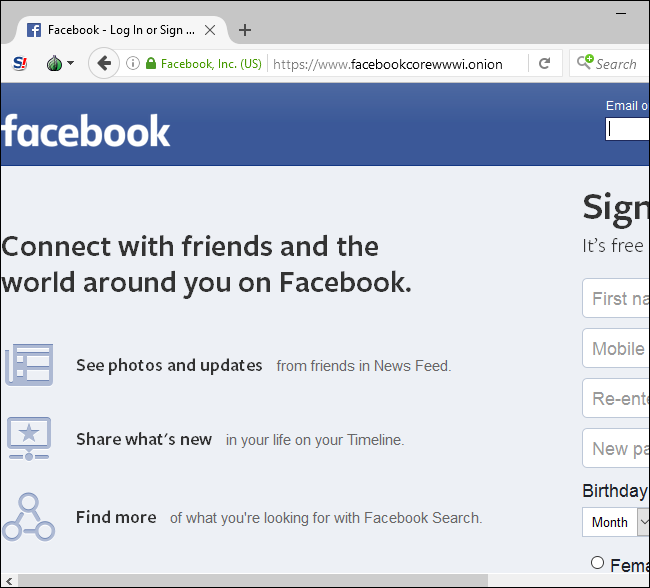 Some of the best .onion Sites with Links.
You can also find other links to news and media outlets'.onion SecureDrop sites here:
https://securedrop.org/directory/
Some more .onion sites are here -:
The BBC: https://www.bbcnewsv2vjtpsuy.onion/
CryptoMe: http://h2am5w5ufhvdifrs.onion/
Deep Web Radio: http://76qugh5bey5gum7l.onion/
The New York Times: https://www.nytimes3xbfgragh.onion/
The Pirate Bay: https://uj3wazyk5u4hnvtk.onion/
Protonmail: https://protonirockerxow.onion/
We Fight Censorship: http://3kyl4i7bfdgwelmf.onion
ZeroBin: http://zerobinqmdqd236y.onion/
IMPORTANT– But, The Onion does not have an Onion site: https://www.theonion.com/
Author – Himanshu Bhardwaj
Thank you for your time.